Even with recent global sales gains, automakers must navigate three powerful forces to build market share now and widen profits from their rapidly changing products.

The worldwide automotive industry has been enjoying a period of relatively strong growth and profitability, and annual sales have reached prerecession levels in some regions. Yet considerable uncertainty about the future remains.

The most immediate challenge is the unevenness of global markets. Auto industry executives and experts tend to be optimistic about the U.S. market, forecasting annualized sales in North America in the near term of a relatively robust 16 million cars, up from only 13 million in 2008. However, the outlook in Europe is much weaker as the region is emerging fitfully from a six-year sales slump. And sales have plunged in Russia and South America — they were down by about 25 percent and 15 percent, respectively, in August 2014 year-over-year. Meanwhile, the Indian market's performance has been inconsistent. And growth in China — the world's largest vehicle market — has slowed, even though investments by most original equipment manufacturers (OEMs), which are betting big on future demand, continue to ramp up. Reacting strategically to these demand shifts will be an absolute priority for industry leaders in 2015.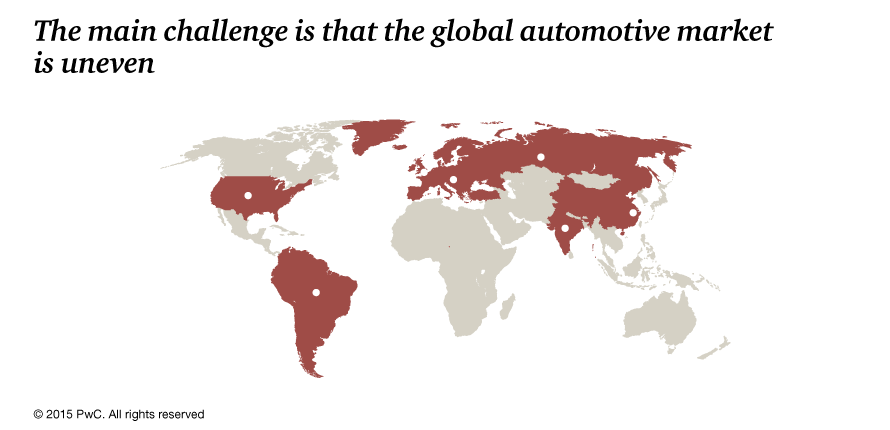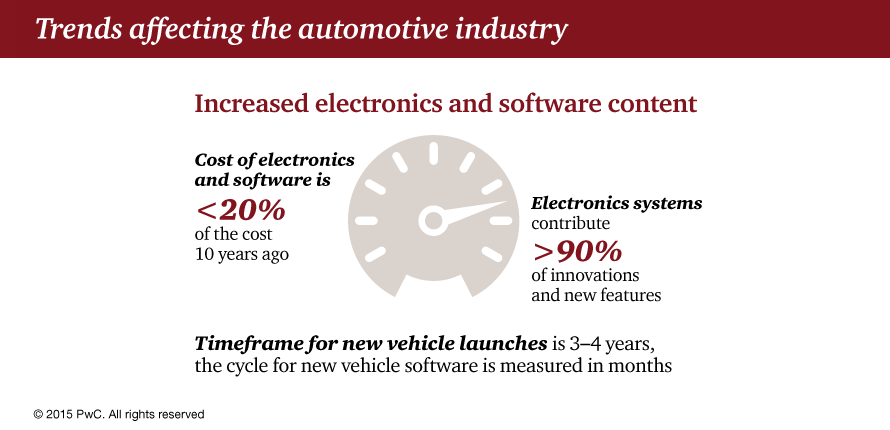 Against this backdrop of macroeconomic uncertainty, we believe major transitions are under way that will transform auto manufacturing over the next 10 years. OEMs, suppliers, and dealers not only must navigate through these changes in the short term to build market share and profitability — they also should take steps now to position themselves for success in the next decade.

What's driving change
From the ground level, three powerful forces are roiling the auto industry: shifts in consumer demand, expanded regulatory requirements for safety and fuel economy, and the increased availability of data and information.

Shifts in consumer demand. Consumers appear to be rethinking their long love affair with individual automobile brands and viewing cars more as transportation machines. Although this is not likely to have a major impact on sales volume, it is affecting how much people are willing to pay for automobiles. That willingness is also affected by the waning of product differentiation, due partly to a general increase in vehicle quality throughout the industry. The Detroit Three have caught up with Japanese OEMs, and the mass market is catching up with luxury. Consumers are also demanding more sophisticated infotainment systems at a low price, and are expecting more high-end features to be standard.

Expanded regulatory requirements.Tighter corporate average fuel economy (CAFE) regulations in the United States as well as the rest of the world are more expensive for OEMs to comply with, requiring higher volume to amortize increasing costs. Regulators are also mandating that more safety-related features, such as backup cameras, be included as standard equipment on new models, adding further to costs.

Increasing availability of data and information. Information about vehicle usage and driver behavior usage is proliferating as sensors and telematics systems become more common. All players across the automotive value chain are interested in collecting more customer and car data, but uncertainty about how to use it is still widespread. Meanwhile, consumers are awash in easily accessible information about automobile specifications, prices, discounts, quality, and performance, giving buyers greater bargaining power.

Impact on the auto industry
These trends offer huge risks and equally outsized opportunities for the auto sector. To address them in a way that results in real competitive advantage, it's critical to understand the specific ways that these trends are already affecting companies in the industry.

Increased electronics and software content. The cost of electronics and software content in autos was less than 20 percent of the total cost a decade ago. Today it is as much as 35 percent, according to studies by Manfred Broy, a professor of informatics at Technical University, Munich. More importantly, electronics systems continue to contribute more than 90 percent of innovations and new features. All major OEMs are targeting traditional product areas such as quality and safety; infotainment provides a way for OEMs and suppliers to differentiate their products. A recent Consumer Reports survey found that infotainment equipment was the most troublesome feature in 2014 vehicles, suggesting a powerful upside for companies that can devise superior systems.

Telematics features, including semiautonomous driving aids such as automatic parallel parking and lane-keeping assistance as well as sensor-based reporting on car maintenance and usage, also present the chance to forge a closer relationship with customers and increase margins. For example, OEMs and dealers can offer more convenient proactive service, alerting a car owner to upcoming maintenance or repairs. In addition, telematics features afford opportunities for tie-ins with insurers, such as offering discounts for customers who drive safely.

Most OEMs are thus far focusing on collecting customer and vehicle data, and in only rare instances have OEMs articulated a strategy to utilize the data. Mercedes, for example, has a program called Mercedes Me in Europe, which is a package of customer services covering vehicle purchasing, financing, servicing, and even short-term rentals that are tailored for individuals and available on multiple digital platforms. The goal is to consolidate disparate customer data and identifying information to increase consumer loyalty and purchases, emulating the models of Internet companies such as Apple, Amazon, and Google.

The increasing importance of infotainment and telematics systems is disruptive for OEMs and traditional suppliers, putting a premium on innovation and changing the ways that industry players design and develop new products and services. Software breakthroughs are becoming as critical as hardware innovation, and competition is increasingly coming from nontraditional players. Ever more vital software content has also accelerated the pace of change in products and features. Whereas the time frame for new vehicle launches is typically three to four years, the cycle for new software iterations, often driven by interactivity with mobile devices, is measured in months.

Product-mix changes made to meet regulatory requirements. Regulatory pressures to reduce overall fleet emissions are steadily adding to automakers' costs. For example, U.S. CAFE standards that will go into effect in 2016 are projected to add as much as US$1,000 to the production cost of a vehicle, according to the National Automobile Dealers Association. Only a minority of auto buyers are willing to pay for more environmentally friendly choices such as electric vehicles, so the cost pressure falls largely on OEMs. One way to meet the tighter standards, which mandate that manufacturers' fleets average 34.1 miles per gallon, is to reduce weight by substituting lighter materials — most dramatically evidenced by Ford's decision to replace a substantial amount of steel with aluminum in the 2015 version of its F-150 pickup truck. This adds some $500 per truck in raw materials costs, more than the $395 MSRP increase Ford has announced for the new base model, according to a number of websites that cover Ford news.

The expense of mandated safety equipment is also difficult for OEMs to pass along. For example, the U.S. Department of Transportation's requirement that all new vehicles have a backup camera increases vehicle costs by as much as $200, at least some of which OEMs will have to cover themselves.

Next-generation platforms and platform modularization. Pressured by both consumer preference for more segmented vehicles and the need to reduce costs for competitive and regulatory reasons, OEMs are adding to the number of models they offer and at the same time reducing the number of vehicle architectures on which they are built, drastically improving product commonality. Volkswagen, the first major OEM to embrace the strategy, is moving toward four modular platforms. GM is going from 30 core and regional platforms in 2010 to 26 in 2015, and has announced plans to move to four flexible platforms by 2025. Toyota, Ford, and other OEMs are following a similar approach. The resulting complexity increases costs somewhat, but the additional expense is outweighed by savings from the sharing of common components between cars and platforms, and increased volume.

The adoption of these next-generation common platforms will also lead to a consolidation of suppliers that will result in a smaller number of large, global players. Ford recently stated that it will reduce its supplier base from its current 1,150 to 750, and other OEMs plan to follow suit.

The changing face of retail. Consumers want a seamless car-buying experience that includes the purchase decision, financing, and insurance — and both customers and dealers are motivated to speed up the transaction. Most vehicle purchasers already browse online to gather the information they need to choose a car, and although they still may want to take a test drive, many also have expressed that they would like to have an online "buy now" button and a no-pressure auto purchasing experience. Obviously, even as the Internet gains in importance as a shopping channel, dealers will still want to use the test drive as a way to get face-to-face with consumers and close a sale. Accommodating these shifting attitudes about buying a car will require equal changes to dealers' processes, including investment in new technology.

Dealers earn little from new-car sales; their profits come largely from service, parts sales, and used-car sales. They will, however, continue to be an important part of the sales chain, and the lack of a robust dealership network will for the foreseeable future be a competitive disadvantage for any automaker.

Industry imperatives
Faced with powerful new forces and consequences for the sector, automotive companies clearly have their work cut out for them. Here are our recommendations for how categories in the industry should marshal their resources and where they should focus their strategic development efforts.

OEM priorities. Given the increase in electronic content, OEMs need to collaborate with suppliers and experts outside the traditional auto industry. Accomplishing this will require changes in the way OEMs function. For example, they may need to use venture funds to nurture and support companies that can innovate technologically, and provide access for more nontraditional suppliers, including hardware and software companies. One promising and efficient path would be to move toward more standardized interfaces, systems, and modules for telematics and infotainment.

OEMs should also prioritize R&D and engineering projects to focus on those that offer the best value and differentiation and to address new safety and environmental regulations in the most cost-effective way. To address the new rules, they should also work closely with suppliers to determine whether the OEM or the vendor, or a combination of the two, is best equipped to develop the technology and innovative solutions needed to meet the regulations. Moreover, OEMs must improve their skills in gathering and analyzing consumer data to serve their customers better and improve brand loyalty. The move to modular platforms will require OEMs to work closely with suppliers to realize the cost savings and manufacturing improvements that they hope to gain by increasing scale.

Supplier priorities. Suppliers should partner with innovative nontraditional automotive electronics and infotainment suppliers to utilize their speed-to-market and (sometimes) higher scale. They should also rationalize their portfolios and strive to be among the top two or three suppliers for each of their "core" products. OEMs will be looking to their top suppliers to co-invest in new global platforms, and suppliers should carefully evaluate the opportunities in expanding their manufacturing footprint as their primary OEMs move toward single worldwide architectures. Early collaboration will reap long-term dividends.

Dealer priorities. Dealers need to invest in data management and customer care technologies that will make the buying transaction faster, more efficient, less pressured, and more pleasing to consumers. They must also improve their online capabilities, like all other retailers, so that the distinction between bricks-and-mortar and the Web diminishes greatly. In so doing, they must foster a continuous connection with customers through vehicle life-cycle software and apps to drive ongoing service and parts sales.