According to statistics ,Chinese SUV sales totaled 798,533 units in January, up 63.9% year-on-year. The SUV segment continued to the major driver for passenger automobile sales growth, accounting for 36.7% of all passenger automobiles sold in the country in the month, up 11.6 percentage points from last year.
SUV brands of all origins managed to achieve sales growth rates in the double digits, with domestic own brand manufacturers leading the segment, accounting for 59.2% of all SUVs sold in the country. A total of 473,029 own brand SUVs were sold in China in January, representing year-on-year growth of 74.1%. Japanese SUV sales totaled 102,520 units, up 58.7% year-on-year. American SUV sales growth was also impressively strong. A total of 71,075 American SUVs were sold, representing year-on-year growth of 72.7%.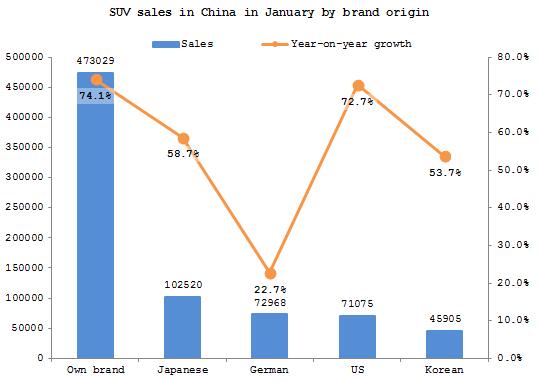 The increasing 'compactification' of the SUV market continued to be a major trend this year. Monthly compact SUV sales totaled 464,641 units, accounting for 58.2% of all SUVs sold in the country. Small SUV sales totaled 214,105 units, making up another 26.8% of the SUVs sold in the country. By comparison, mid-size and full-size SUV sales totaled 115,296 units and 4,491 units, accounting for 14.4% and 0.6% of all SUV sales transactions completed over the course of the month.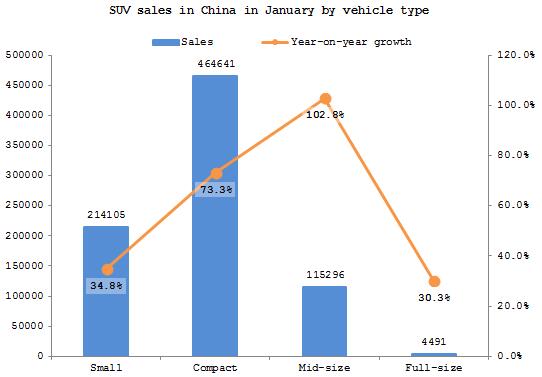 Great Wall Motor was the country's largest manufacturer of SUVs in January, followed by Changan Automobile, SAIC-GM-Wuling, Shanghai GM, JAC Motor, Dongfeng Nissan, Guangqi Trumpchi, Changan Ford, Shanghai VW and Dongfeng Honda. Aside from Shanghai VW, whose sales fell 8.5% year-on-year, all of the manufacturers on the top ten list managed to achieve positive year-on-year sales growth rates. Guangqi Trumpchi's performance was especially commendable. A total of 32,042 Trumpchi SUVs were sold in January, up over six-fold compared to sales figures from last January.
Meanwhile, SAIC-GM-Wuling was able to take the top three spot base solely on the stellar performance of a single model, the Baojun 560, whose monthly sales totaled 40,002 units.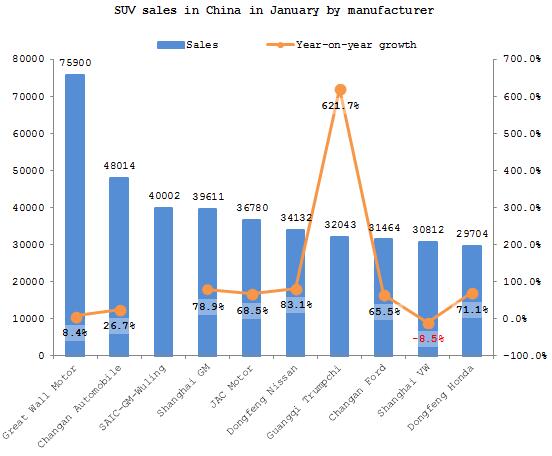 The Great Wall Haval H6 was the month's best-selling SUV model, with sales of over 40,000 units and strong year-on-year growth of 21.5%. It was followed by the SAIC-GM-Wuling Baojun 560, GAC Trumpchi GS4, VW Tiguan, Changan CS75, JAC Refine S3, Buick Envision, Changan CS35, Nissan X-Trail and Great Wall Haval H2. Own brands performed very strongly, making up seven of the entries on the top ten list. Among them, the Baojun 560 and Trumpchi GS4, both own brand models, performed very strongly, managing to surpass the VW Tiguan.