Although the Chinese automotive market saw its once rapid extension fall back in 2015, it still managed to maintain relatively stable growth rates all things considered. Most Chinese companies managed to post respectable income and net profit growth rates for the year. New energy automobiles played a major role last year, with companies like BYD and King Long benefiting greatly from them.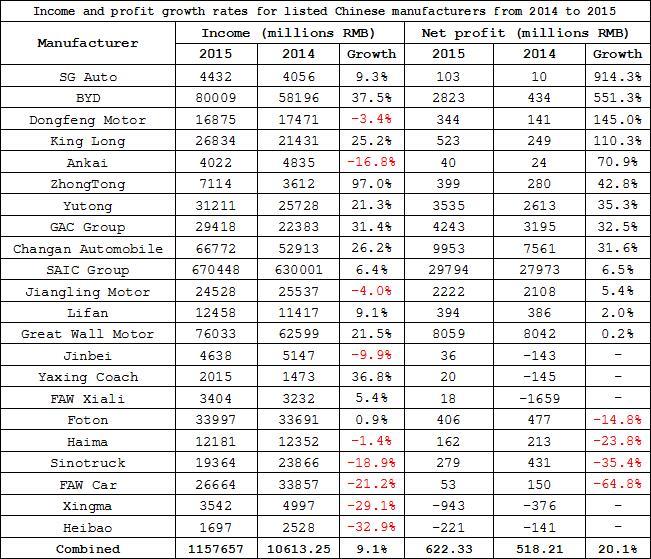 According to statistics compiled by Gasgoo.com (Chinese), the 22 top listed automobile manufacturers in China managed to achieve average income and net profit growth rates of 9.1% and 20.1%, respectively. Average profit margins also increased from 4.9% in 2014 to 5.4% in 2015, with profit margins for the best performing of these companies reaching as high as 75%.
BYD posted some of the highest net profit growth rates among the manufacturers. Thanks to the success of popular new models, BYD managed to achieve net profits of 2.82 billion RMB in 2015, over five times the 434 million RMB generated in 2014. The popularity of new energy automobiles last year has meant that BYD has continuously been unable to keep up with strong demand.
Similarly benefiting from new energy automobile sales were Dongfeng Motor and coach builder ZhongTong. While Dongfeng's incomes fell 3.4% in 2015, its net profits increased by 145% to 344 million RMB. ZhongTong reported income and net profit volumes of 7.11 billion RMB and 399 million RMB, representing year-on-year growth rates of 97% and 42.8%, respectively.
Changan Automobile, GAC Group, Yutong Group and King Long also posted respectable year-on-year net profit growth rates. Changan's strong sales performance over the course of the year allowed it to generate net profits of 9.95 billion RMB, representing year-on-year growth of 31.6% and allowing it to exceed rival domestic manufacturer Great Wall Motor. GAC, meanwhile, managed to attain a net profit growth rate of 32.5%.
Also worth mentioning is FAW Xiali's surprising recovery. Notoriously known for reporting in net deficits, FAW Xiali finally posted net gains last year. FAW Xiali reported net profits of 18 million RMB for 2015, compared to a net loss of 165.9 million RMB from the previous year. FAW Xiali attributes this recovery to the success of its new models and the implementation of effective cost reduction measures, among other factors.
Despite 2015 being an overall positive year for Chinese automotive manufacturers, there were still some companies that failed to live up to expectations. Among them is leading own brand company Great Wall, whose reported net profit of 805.9 million RMB was virtually identical to the previous year. Great Wall attributed its performance to macroeconomic factors and increasing competition, which has forced it and other companies to focus on offering sales promotions and slashing prices for its models.