According to the data released by the China Passenger Car Association (CPCA), the PV sales in China reached around 1.45 million units last month, decreasing 8.6% year on year affected by the Spring Festival and the phase-out preferential policy of vehicle purchase tax.
Cui Dongshu, secretary general of the CPCA, said the overall sales decline was expected because there were only 17 workdays in February due to the Spring Festival. Besides, some automakers had lessened their sales targets on the account of the pretty small production outputs which indirectly lowered the total sales volume. Cui predicted that the production outputs and sales in March will regain prosperity to some degree.
Top 10 automakers by Feb. sales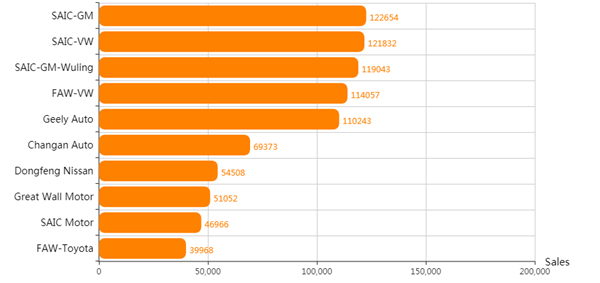 According to the CPCA's data, compared to the January sales performance, the top 10 automakers by monthly sales last month remained unchanged. However, as to the ranking, some changes are quite noteworthy. SAIC-GM-Wuling climbed two places to the third with February deliveries of 119,043 units. Apart from SAIC-GM-Wuling, there were other four Chinese self-owned automakers entering into the top 10 sales list, including Geely Auto, Changan Auto, Great Wall Motor and SAIC Motor. It can be learnt that all top five automakers accomplished monthly sales exceeding 10 thousand units, among which three of them were from JVs.
Three self-owned automakers ranked among the latter five places. In terms of the sales performance, Changan Auto, ranking sixth on the list, only delivered 69,373 units last month which was clearly far behind the fifth automaker Geely Auto. However, the number of self-owned automakers included on the top 10 list was more than that of the same period in 2017.
Top 10 brands by Feb. sales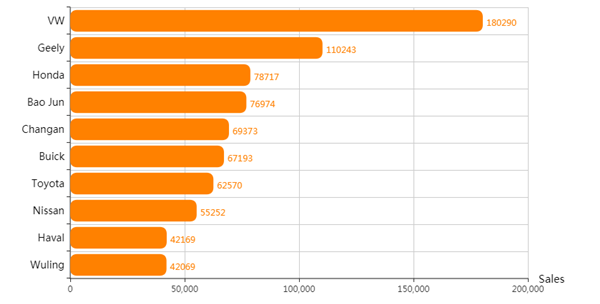 Besides, among the top 10 brands by February sales, five China's self-owned brands entered into the list, including Geely, Baojun, Changan, Haval and Wuling. In terms of the ranking distribution, Geely, Baojun and Changan occupied three places out of the top five brands, ranking the second, the fourth and the fifth respectively.
Especially, the runner-up Geely achieved a year-on-year sales jump of 23.83% to 110,243 units last year, which was far ahead of the third brand Honda. Although Wuling ranked the tenth on the list, it had not been listed among the top 10 brands in January.